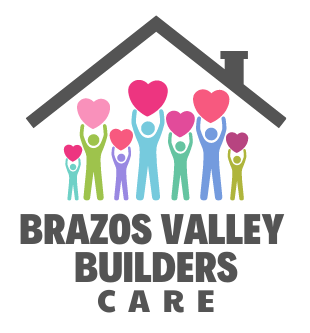 WHO IS BRAZOS VALLEY BUILDERS CARE?
Brazos Valley Builders Care is Greater Brazos Valley Builders Association's Community Service Committee.
WHO LEADS BRAZOS VALLEY BUILDERS CARE?
Our Committee Chair is Cari Bullington of Extraco Mortgage and our Committee Co-Chair is Dwight Groves of Program Insurance Group. Additionally, our committee members include:
+ Emily Stearns, Habitat for Humanity
+ Lacey Hogan, Inhabit Real Estate Group
+ Pam Cemino, KAGS TV
+ Paige Naumann, University Title Company
+ Melanie Becka, Vera Bank
HOW WE DO WHAT WE DO
Brazos Valley Builders Care is fortunate to give back to our local community through fundraisers such as Builders Care Blend, Silent Auctions and more!
CHARITIES WHO HAVE BENEFITED FROM BRAZOS VALLEY BUILDERS CARE
BCS REALTORS's Fun Run, Habitat for Humanity BCS, Bryan ISD CTE Center, The REACH Project, and Operation Safeshield
HOW CAN YOU HELP
We couldn't do it without the support of our committee members, staff, members, volunteers and more. There are plenty of ways to contribute such as:
+ VOLUNTEER [fundraisers, etc.]
+ Join the Committee
+ Participate in any of our fundraisers
+ Spread the Word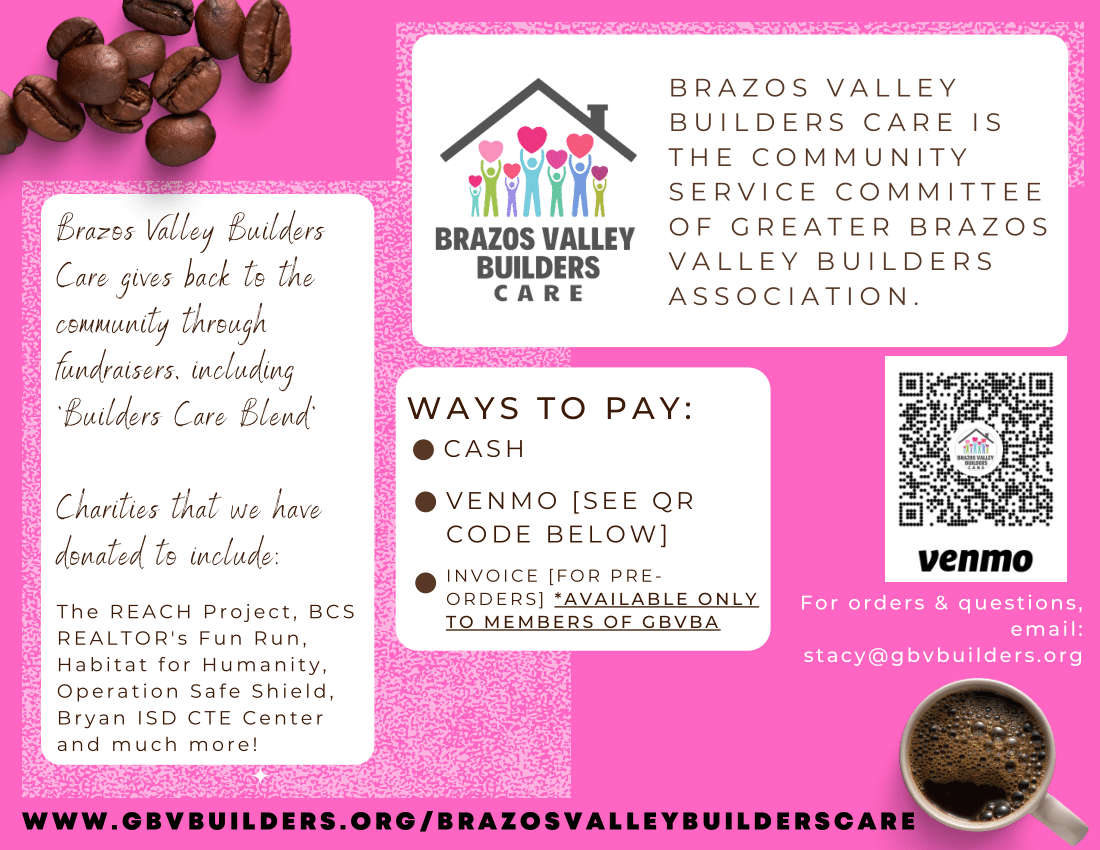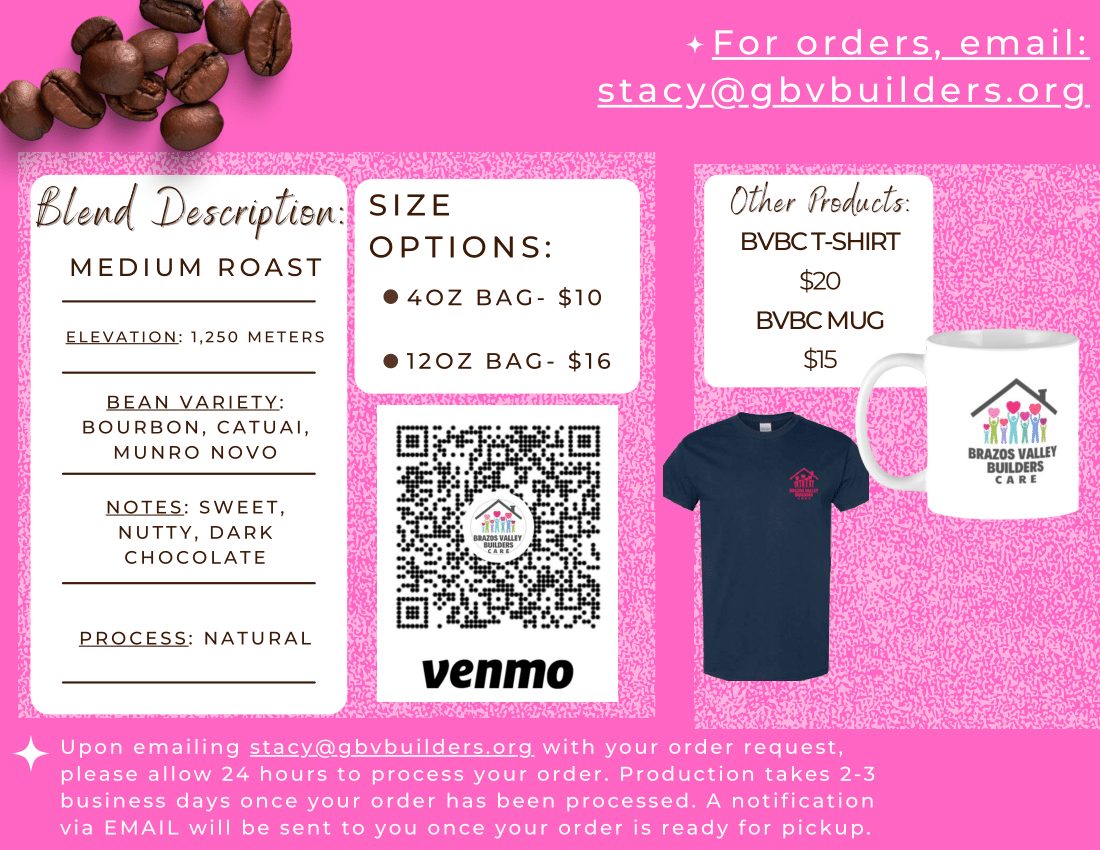 43rd Annual Home & Garden Expo Preview Party
Friday, February 11th, 2022
$ of Funds Raised from Silent Auction
Silent Auction Donors:
GBVBA's President, Donnie Pockrus -
Ambit Homes,
FlagShip Custom Homes,
White Elm Day Spa
, Cari Bullington,
Extraco Mortgage
,
Greens Prairie Reserve
,
Southern Creek Homes
,
Petal Patch Florist
,
Burks Creations
,
Lochmann Construction
,
Tekton Timber Co.
,
Solt
,
Ruffino Meats & Food Service
,
Readfield Meats & Deli
, Marty Cangelose,
All Hands Craft Cocktails
, Bryan ISD CTE
, Program Insurance Group
,
Admiral Catering
, City of Bryan, Brazos Valley Floor Design,
First Financial Bank Texas
,
Magruder Homes
,
Frontier Title College Station
,
South Land Title formerly Brazos County Abstract Company
,
United Ag & Turf
,
University Title Company
,
Hoelscher Lipsey Elmore & Poole
,
1st Alliance Mortgage LLC
, Fred Bayliss, Attorney,
Pitman Custom Homes
, City Bank,
Kent Moore Cabinets Ltd.
,
Hob Knob Interior Hardware
,
Guaranty Bank & Trust
,
House of Tires
, Jordan Monroe,
Basecamp Farms
,
AudioVideo
,
StoryTime Photography
,
McCoy's Building Supply
,
Spirit of Texas Bank,
Rudder High School,
Inhabit Real Estate Group
,
Lawyers Title Company of Brazos County
,
DesignCo
,
Zeitman's Grocery Store
,
Aggieland Outfitters
,
Lacey Fay Hogan, REALTOR
,
Sarah Mengers - REALTOR
, Cary Tennis,
InterLinc Mortgage
, Aggieland Title Company.
The REACH For the Stars Luncheon
Friday, February 18th, 2022
Operation Safe Shield First Fundraiser
Thursday, April 14th, 2022
On April 14th, 2022, Brazos Valley Builders Care, GBVBA's Community Service Committee, was so proud to support
Operation Safe Shield
's Steak Dinner benefit! We are so appreciative of our law enforcement who put their lives on the line to protect our communities! The Texas legislature recently passed SB2222 to provide bullet resistant windows for all of the Texas Department of Public Safety patrol vehicles in response to two separate incidences of officers being shot through the windows of their patrol cars. TDPS Trooper Chad Walker was shot on March 26, 2021, near Mexia, Texas and died from his injuries. He was merely stopping to assist a disabled vehicle when he was ambushed. TDPS Trooper Juan Tovar was shot through his side window on April 8, 2021, while trying to apprehend a mass shooter fleeing from Bryan, Texas. Operation Safe Shield's initiative is to provide lifesaving bullet resistant windows for all of the patrol vehicles in the Brazos Valley, starting with Brazos County.  Dr. Clifford Dorn, the founder of Backing the Badge BCS along with Kristi Schiller of K9s4Cops decided to form Operation Safe Shield as a non-profit to generate funds to further this initiative.
BCSRAOR's 24th Annual Fun Run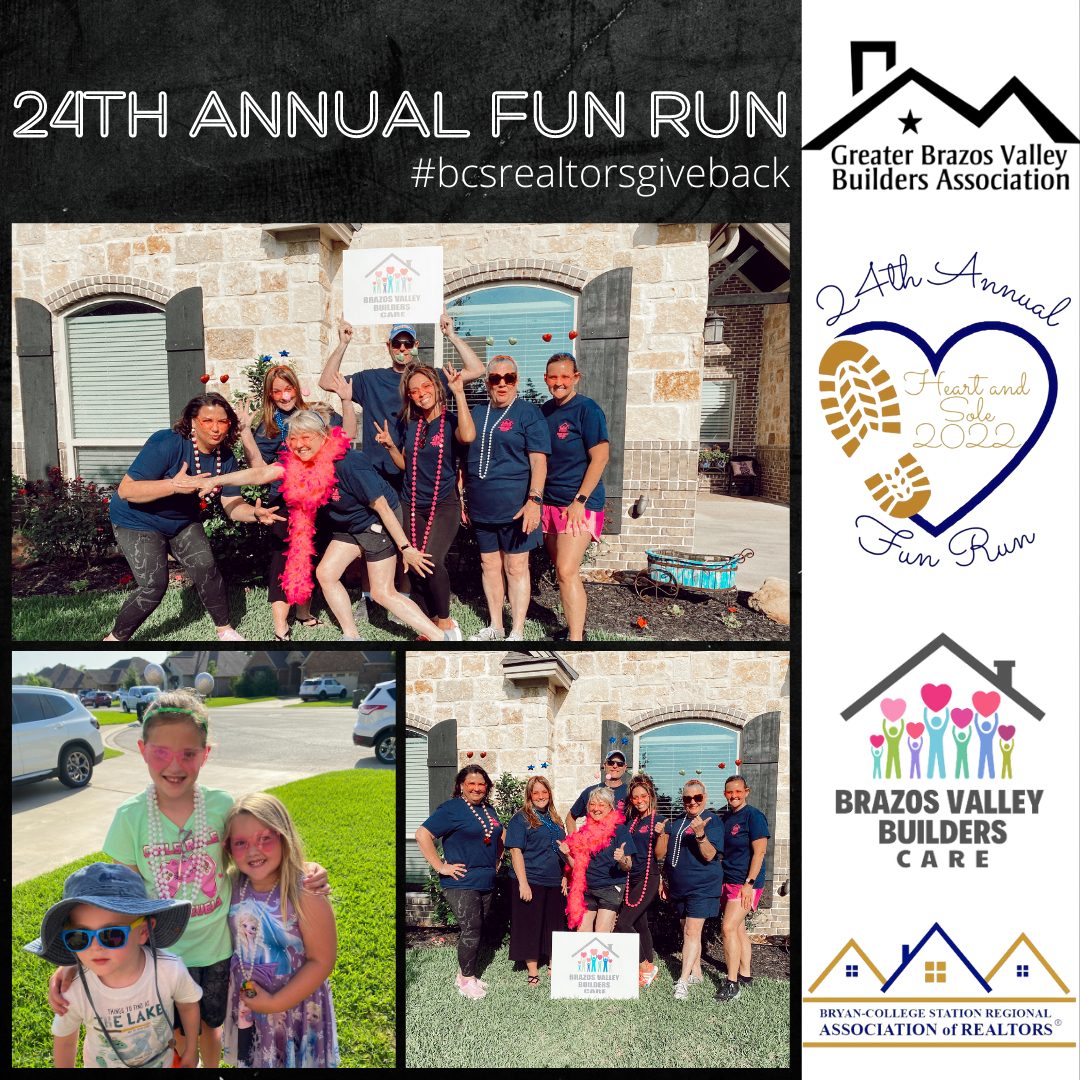 As part of the Bryan-College Station Regional Association of Realtor's 24th Annual Fun Run, Brazos Valley Builders Care contriubted to a Gold Sponsorship. The Annual Fun Run benefits those in our very own community such as Hope's Locker Chrissy Closet and Still Creek Ranch.